Just a couple of weeks from now you'll be able to play Mafia: Definitive Edition on PC, PlayStation 4, and Xbox One. The game's simultaneous worldwide release means that, depending where you are, you might get to walk your first steps in protagonist Tommy Angelo's shoes towards the end of the day on Thursday, September 24 or on the morning of Friday, September 25. See below for information on when Mafia: Definitive Edition is scheduled to release in your region. Console users who have preordered the game will have an opportunity to pre-install the game prior to release.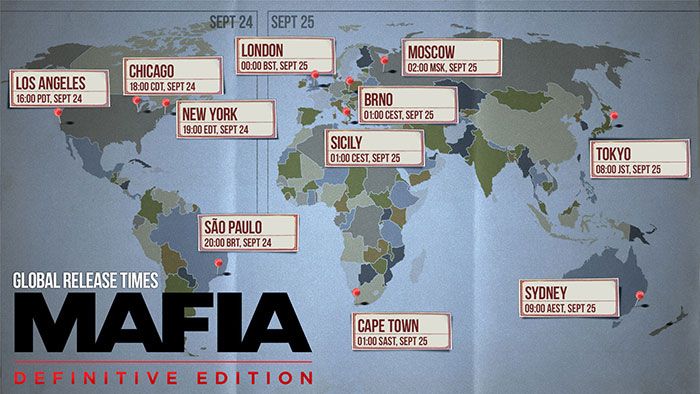 September 24, 2020
16:00 PDT
17:00 CST
18:00 CDT
19:00 EDT
20:00 BRT
September 25, 2020
00:00 BST
01:00 CEST
01:00 SAST
02:00 MSK
07:00 SGT
08:00 JST
09:00 AEST
11:00 NZST
While you're waiting to hit the streets of Lost Heaven, you might be interested to learn about some of the features that you can look forward to, such as the new collectibles that are scattered across the map, and the Classic Difficulty option that offers an old-school challenge with gameplay nods to the original Mafia released in 2002. If you're planning to spend any time exploring Lost Heaven on one of the new motorcycles, you might also consider signing up for a 2K Account if you don't have one already; doing so will unlock the Black Cats Motorcycle Pack, which includes a biker outfit for Tommy as well as a custom motorcycle.

We can't wait for you to play Mafia: Definitive Edition and experience everything that this total remake of Tommy Angelo's story has to offer. See you in Lost Heaven!