UPDATE - Mafia: Definitive Edition will now launch on September 25, 2020. Read more info here.
The Mafia series wouldn't be what it is today without Tommy Angelo. As the leading man of 2002's Mafia: The City of Lost Heaven as well as the upcoming remake, he's our conduit into the criminal underbelly of 1930s America, and the kind of relatable anti-hero that every great mobster drama needs. When Hangar 13 started work on Mafia: Definitive Edition, the scope of the project meant they needed to find a new cast to portray the characters of this timeless organized crime story. And at the heart of it all is the new Tommy Angelo, who you can get to know in the "New Beginnings" narrative trailer.
Below is a complete list of the actors who will portray Tommy Angelo in Mafia: Definitive Edition with localized voiceovers. Andrew Bongiorno, Tommy's English-language voice actor, is also the basis for Tommy's likeness and motion-capture performance. All supported languages will include localized subtitles.
English: Andrew Bongiorno
French: Alexis Ballesteros
Italian: Valerio Amoruso
German: Marcus Just
Spanish: Richard del Olmo
Russian: Yuriy Titov
Czech: Marek Vasut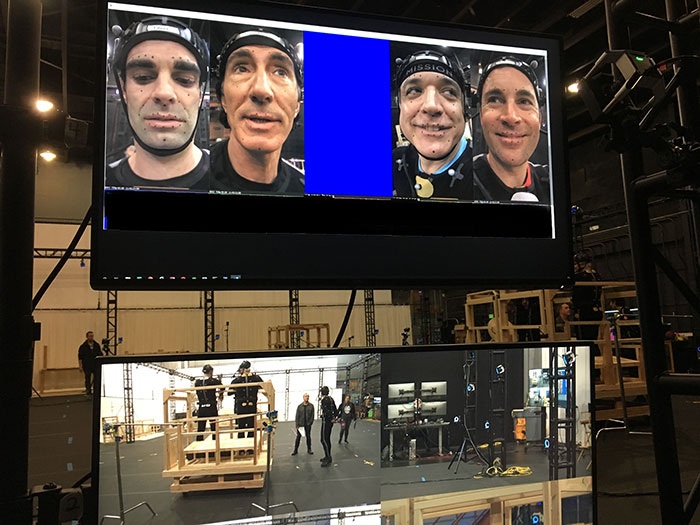 Mafia: Definitive Edition actors during a total capture performance. From left to right: Joe Chambrello, Jordi Caballero, Glenn Taranto, Andrew Bongiorno.
Searching for an all-new cast
Giving Mafia: Definitive Edition the kind of polished, cinematic presentation it deserves meant that simply reusing the original game's audio wasn't an option. "Because Mafia: Definitive Edition is a complete remake, we rebuilt virtually everything from the ground up," says Hangar 13 President and CCO Haden Blackman, who oversaw the development of the game and its expanded take on the original story. "That includes the cinematics, which were remade using our state-of-the-art motion capture and facial likeness technologies. Since our cinematics rely heavily on motion capture data, it was essential that we have both voice and physical performances. We looked for actors who not only sounded the part, but also looked the part and could perform on both the motion capture stage and in the VO booth."
"I definitely looked into the possibility of getting the original actors," says Hangar 13 Producer Nicole Sandoval, who managed all mocap and voice recording work with the narrative team across cinematics and dialogue. But bringing back the original English cast just wasn't viable, not to mention that it's been nearly two decades since the original Mafia's debut; "No one's voice stays the same, especially after such a long period of time," notes Sandoval.
"Ultimately, Haden and Alex [Cox, associate game director] and I really wanted to make this an ensemble," she says. "Some might ask 'Well, why not just keep Tommy?' Sure, but then you don't really have a ground-up ensemble that you've built to go with the expanded version of the story. And it's really important for us at Hangar 13 to make sure that, because we do invest so much in the story, we're building a cast around the story that we feel will be the best at bringing these characters to life, working together and becoming like a family."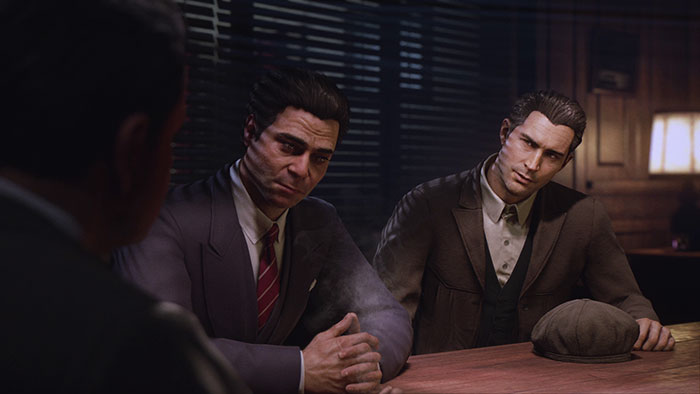 Meet the new Tommy Angelo
Naturally, finding the perfect Tommy Angelo was the most difficult and crucial aspect of getting Mafia: Definitive Edition's recasting just right. "In many respects, we knew that we had to build the rest of the cast around that actor in order to ensure a sense of camaraderie and family," says Blackman. Hangar 13 found their man in Italian Australian actor Andrew Bongiorno. "Tommy needs to be believable as both a mobster and a family man," says Blackman. "Because he's the stand-in for the player, he needs to be able to walk that line well. We wanted someone who was aspirational at times—someone you might want to be—but who could also convey his very human weaknesses. He also needed to be able to run a gamut of emotions. When Andrew auditioned, he was able to provide that range."
Sandoval recalls there being a distinct coolness and calmness to Bongiorno that stood out during his initial audition. "In the callbacks, we really like to give the actor a lot of back and forth with the notes directly in that moment," she says. "He just took the direction so well; when we pushed him, he was willing to go there. And it doesn't hurt that he also looked like how we want Tommy to look. Obviously the technology back in 2002 didn't allow for facial likeness… but for Mafia: Definitive Edition we were able to not only find somebody who could sound and act like how we wanted, but we could have the trifecta of 'this guy even looks like what we believe Tommy would look like if he wasn't pixelated.' And that's one of the great benefits of being able to redo something like this for the fans: the technology now allows us to have that much more say over what the character looks like. "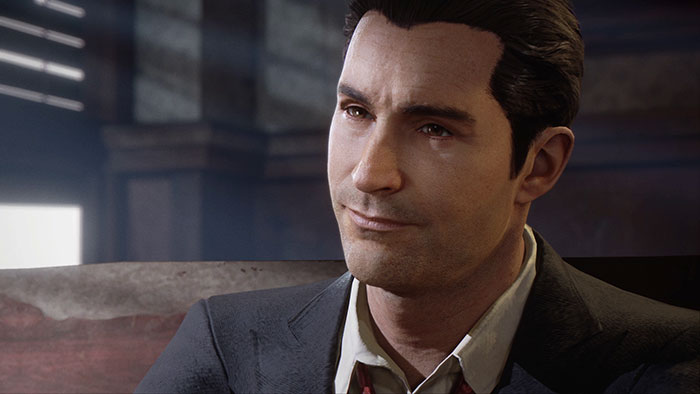 Funnily enough, there was one aspect Bongiorno really had to work at to get Tommy just right. "One of the things that we also wanted to take the time to do when we were recasting was make sure that our actors got vocal coach training," explains Sandoval. Hangar 13 brought back vocal coach Eliza Jane Schneider, who worked extensively on the distinct dialects of Mafia III's New Bordeaux. "We hired her back again, and she did all of the different sounds from 1930s Chicago for us," Sandoval continues. "She did a lot of research, she sent videos and samples, and each of our actors got to work with her one-on-one to make sure that they learned the different sounds."
"We really wanted to make sure that what people are getting in this version is that authenticity of 1930s Chicago [the real-world inspiration for Lost Heaven]. It's not New York, it's Chicago—and a lot of people, when they think of 1930s gangsters, think of classic New York gangsters. And there's a distinct difference between the sounds of Chicago and New York, the biggest one being the 'R' sound. So in New York, it'd be 'caw'; in Chicago, it's 'car,' with a hard 'R.' I wanted to get a T-shirt that said 'Stop dropping your 'R's!'" laughs Sandoval. "That was something that we worked on really hard for this game, to add that little bit of extra authenticity."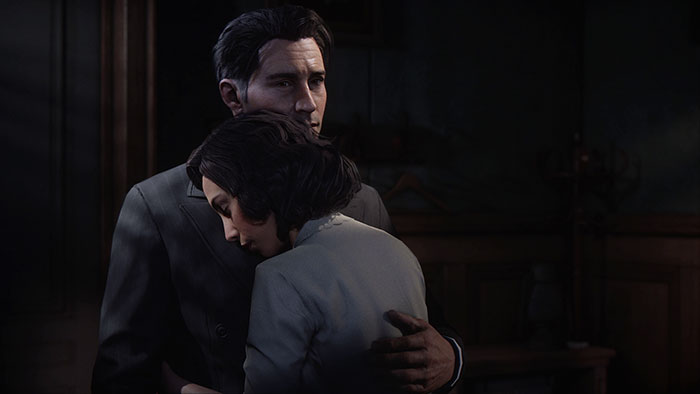 The right man for the job
Dropped 'R' silliness aside, Bongiorno proved to be the perfect fit to Tommy Angelo's dual nature as an honest, hard-working cabbie turned principled Mafia soldier. "When we were casting for Tommy, we obviously wanted somebody that we felt people would be able to relate to," says Sandoval. "They had to be able to have the two different sides of Tommy, one of which is a family man who loves his wife and his child, and the other side of Tommy, a mobster who becomes our hero. They need to have that edge of being a hero, that person that you want to be—you want to play him, you want to see him succeed—and you can also relate to him from a family side. We needed somebody who was able to bring those two sides of Tommy together." Bongiorno fit the bill, delivering a performance as Tommy Angelo that will captivate players when Mafia: Definitive Edition makes its debut later this year. "Andrew did an amazing job, and I really look forward to the fans meeting his Tommy Angelo," says Sandoval.
Localization is also hugely important to Hangar 13, and each voiceover language in Mafia: Definitive Edition had its own casting process to evaluate which actors could best embody this ensemble of 1930s characters. For instance, the Czech localization managed to secure most of the original game's Czech voice actors, including Marek Vasut reprising his role as Tommy Angelo—something that's sure to delight fans of his original performance.
Of course, Tommy Angelo is just one part in the tapestry of mobsters that make up Mafia: Definitive Edition's story—and soon we'll give you more insight into the supporting cast that helped bring Tommy's story to life. Stay tuned.