Along with the gorgeous visuals and enhanced gameplay, sound design and score are essential to completing the faithfully remade 1930s atmosphere of Mafia: Definitive Edition. But as the entire gaming industry was impacted by the COVID-19 pandemic, Mafia: Definitive Edition's audio had to be completed amidst a host of new challenges in this unfamiliar working environment. Matt Bauer, Studio Audio Director at Hangar 13, and Jesse Harlin, composer on Mafia: Definitive Edition, had to get creative to overcome these challenges to deliver the soundscape they had envisioned from the start.
The majority of Mafia: Definitive Edition's score was recorded in the summer of 2019 in Nashville and Prague. "It was really important for the team that we record part of the score in Prague, where the original game's score was recorded," says Harlin. "The way that we split it up is, strings were done in Prague, and percussion, woodwinds, and brass were all recorded in Nashville." These tracks were then mixed into the original score that's layered atop gameplay and cutscenes alike.
But the last piece to be recorded was of the utmost importance: the music for the opening cinematic, which perfectly recreates the iconic opening song authored by Vladimír Šimůnek, the composer for the original Mafia: The City of Lost Heaven. "We wanted to include it again for Mafia fans who really love that piece of music, but give it a fresh coat of paint, and a new performance," says Bauer. The planned recording in the Czech Republic was set for March 2020, right when the COVID-19 pandemic started as the virus spread globally and lockdowns went into effect around the world. With new social distancing rules in place, recording with the full orchestra together simply wasn't possible.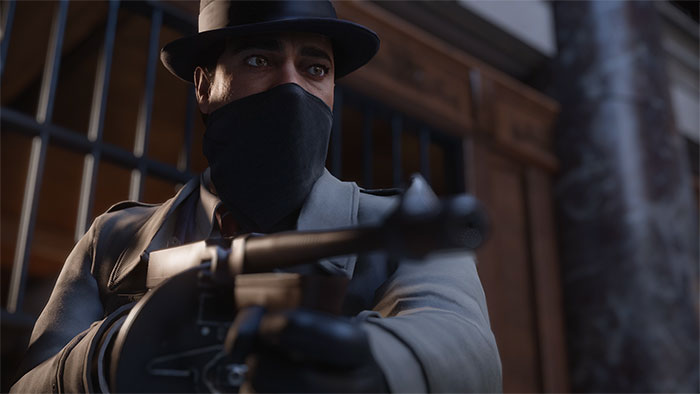 "I reached out to the Brno Philharmonic Orchestra and made an unconventional request: could we try spacing people out around the concert hall and recording only a few at a time?" recalls Bauer. By bringing in smaller groups of musicians and carefully tracking where they sat in the studio, the team painstakingly recorded each element of the song so that they could later be reassembled like a musical jigsaw puzzle into what sounded like a complete orchestra. "The recording session ordinarily would've taken half a day but got stretched out to three days by recording in this way," says Bauer. "Once completed we had over 200 microphone tracks to mix. It was one of those experiments that had equal potential for the results to be incredible, or disastrous, but we confidently gave it a try. The Brno Philharmonic did an incredible job and we worked really hard on the mix to help them sound as good as possible."
In addition to all of Mafia: Definitive Edition's licensed songs you'll hear on the radio, Harlin's new score more than doubles the amount of original music, clocking in at a combined 84 minutes compared to the 39 minutes of 2002's Mafia: The City of Lost Heaven. "At the beginning of this project, one of our requests for Jesse was: Don't try to recreate the original score exactly as-is," explains Bauer. "We wanted to include some pieces from it, particularly for fans who remember that music and love it. But at the same time, we gave Jesse plenty of creative freedom to write music for a new audience as well. There are small pieces of the original Mafia score that he very effectively weaves in throughout his music."
"I've spent time trying to be very thoughtful about what the new music means to the story, and what it means to the world," says Harlin. "I'm the kind of composer who overthinks everything on a conceptual level. There's a lot of very classical influences from the romantic era of the late 19th Century. I knew that guys like Salieri and Morello and Frank were born in the late 19th Century, and they still carry with them a sense of the end of that era even into the 1930s. I wanted to reflect that musically in the score."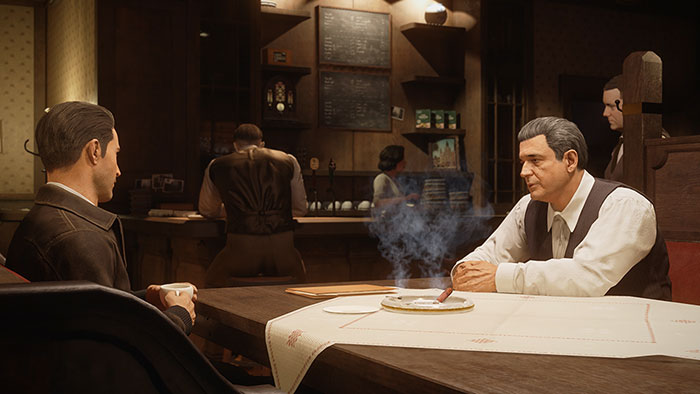 Said score incorporates all the classic instruments you'd expect from a full orchestra, but Harlin managed to sneak in a few unconventional sounds for select tracks. Listen close and you'll catch the use of a mandolin and an Eastern European instrument called a cimbalom that's commonly associated with folk tradition. "Whenever the cimbalom shows up, it's very effective at building tension in a scene," remarks Bauer.
Outside of the music, sound effects were also heavily impacted by the pandemic, particularly the Foley work. For the unfamiliar, Foley "generally refers to sounds of characters interacting with the world around them," explains Bauer. "Some examples are footsteps, clothing, and hands picking up or touching objects. We were about 60% complete with our Foley recording sessions when the COVID-19 pandemic began imposing restrictions, so the challenge became, how do we finish in time with a high level of quality?" The Hangar 13 audio team regularly works with Skywalker Sound for Foley. "Many people were transitioning away from studio facilities to a work-from-home environment, us included," says Bauer. "One of our incredibly talented Foley artists, Shelley Roden, quickly converted her home into a Foley stage, while Scott Curtis masterfully handled engineering duties via remote access from his home."
The COVID-19 pandemic made for less-than-ideal working conditions, but Bauer, Harlin, the Hangar 13 audio team, and all the musicians they worked with collectively persevered. "I'm happy with the end results, pandemic or not, and very proud of the entire team for professionally tackling these challenges and never giving up," says Bauer. You can hear the results of those monumental efforts for yourself when Mafia: Definitive Edition launches later this week; check out the "When Can You Play Mafia?" release schedule for details.